Napier Windows LTD Provide an Installation Service or a Supply Only service on any of our products, Including the Windows. We supply to trade, retail, domestic and commercial properties.
Each and every window manufactured by our team in our factory, is a made to measure frame to how you want it. Our manufactured window frame is a Aluplast Profile, which is a very stylish and modern profile. We have been manufacturing our windows for the past 20 years
When choosing Napier Windows to install or supply your window frames, you as the customer have never had such a wide range of options and designs to choose from. The extremely low maintenance frames will give your property a stunning and modern finish. The five chambered design of the windows mean that the windows are highly energy efficient. With the great locking system on the opening sash's, you would be increasing the security of your property also. All Windows are available in a variety of colours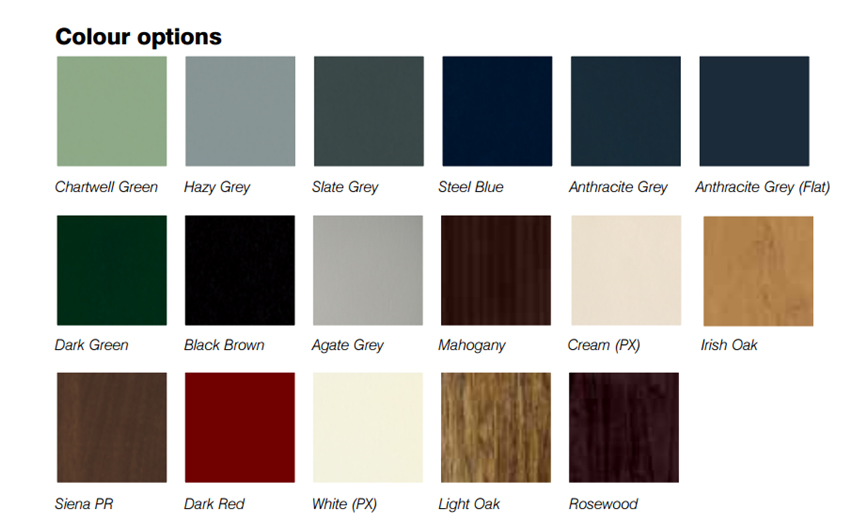 Casement Windows
Tilt and Turn
Bay Windows
Shaped Windows
Casement windows are the most common window style as they suit any property. They are a good looking and very versatile frame as they can be made individually for you in the design / configuration and colour you chose.
The versatility of these frames allow you to choose how many casements you want in the frame and how many fixed lights. The most common styles are Window frames that are hinged at the top, either side or at the bottom. ( For instance a casement window would include; a top hinged casement that opens over a fixed window.)
The beauty of the Aluplast Casement window is that every frame can be adapted in any combination to suit your aperture or home. And you have the final choice on style, colours and final finishes.
If you need any more information don't hesitate to get in touch with ourselves.
Tilt and Turn Windows are a cleverly designed window, with its crafty bit of engineering it offers great adaptability. Is this ideal window for your home?
With one turn of the handle and the window can be tilted inwards for effective ventilation, with no obstructions and this hazard free scenario this setting is perfect for airing your room. Close the handle and turn it upwards and the window will open inwards from the side, this offers a very large opening space allowing plenty of air flow, accessibility for keeping your windows clean inside and out and also act as a means of escape from the property.
The Inward opening sash sets it apart from the regular outward opening casement windows, as for whom the open out casements are simply not suitable for due to space restrictions.
However the beauty of the tilt and turn is that the can be configured into any of our Aluplast frames, and you have the final choice on style, colours and final finishes.
Numerous casement windows connected together in an arc or square shape form a bay window. Bay windows can create lots of light in the rooms as well as allowing you to enjoy the panoramic views outside due to their projection from the wall. Having a Bay Window can also increase your internal space inside your home.
The stylish and beautiful feature point of your home can be configured to the way you want. The final touches of shapes, styles/ designs, colours and final decorations can all be chosen by yourself.
At Napier Windows we know every home is unique and that's why we like to be able to provide for every home owner needs. That is why we have loads of options when it comes to manufacturing our frames. We can make them in most shapes and sizes, not just always the standard rectangular frames. And they are all still made to the same high specification and finishes.
The shaped frames can be adapted in any combination to suit your aperture or home. And you have the final choice on style, colours and final finishes.
All our PVC-U windows are rated for their energy efficiency. Many people will be familiar with the ratings that are given to white goods such as fridges and washing machines, which are graded between A and G, depending on their environmental efficiency – A being the best and most efficient. What is less well known is that the same system can be applied to windows as well. At Napier Windows we like to give you as the customers the options as to what you want; We currently manufacture a "C" Rated window as standard but we can also provide you with and "A" rated window if that is what you want with a slight change to the double glazed units we use.
Replacing your current windows with our Aluplast Windows which we manufacture will not enhance just the look and energy efficiency of your property but it will make a significant factor in improving its security as well. We only use the best locking systems possibly with key locking handles on our windows. All our windows are fitted with a certain mechanism that when the window is shut, shoot bolts lock into strikers. With security in mind we always aim high to protect your property. The safety and security of your home should always be top priority. That is why Napier Windows only supply the best possible windows.
For more details don't hesitate to get in touch with any of our staff.