Whatever you are looking for at your property, whether that is a Casement Door (Front Door/Back Door), Rock Doors, French Doors, Bi fold Doors or Patio/Sliding Doors, Napier Windows can help.
We manufacture PVC Doors to Supply or Install, as like the Windows they are a Aluplast Profile. All of the Doors meet the specification they should do, regarding security features, Safety aspects ETC.
The first thing you see at your property is your Door and having us fit you a new one will create a beautiful and distinctive look to the entrance of your home. With the massive range and options that you can choose from your new entrance door with be sure to set good impressions. Our doors however will not only look great they are tough and durable for its everyday use. And for would be intruders it's a deterrent, as we only use the best possibly security locking mechanisms.
As like the windows the doors are also available in many different colours as followed: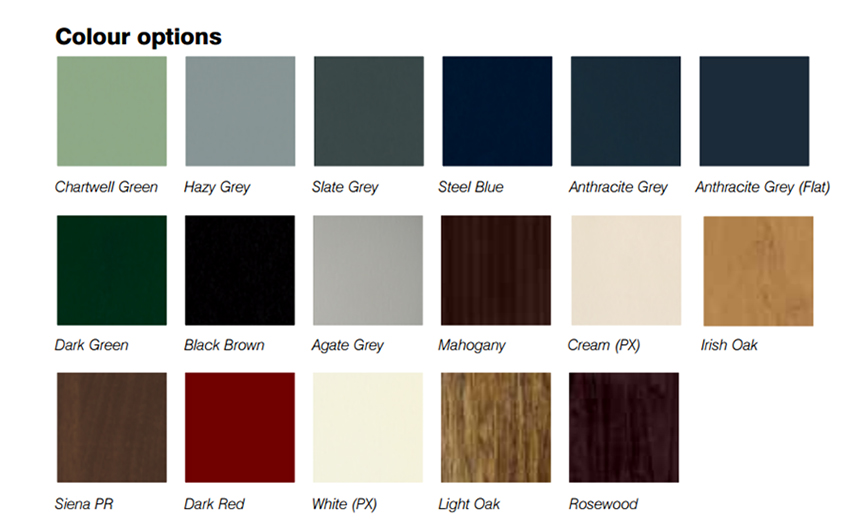 Some of the different Doors Styles are as followed:
Casement Doors
Rock Doors
French Doors
Sliding Doors/ Bi Fold Doors
Casement Doors are PVC Doors manufactured by ourselves with Aluplast Profile, they can come in a variety of styles to suit every home. Some advantages of these casement doors are; they are virtually maintenance free, provide top level security, help improve your home energy efficiency.
All of our doors are fitted with a 7 point locking system, where shoot bolts and hooks lock into a one piece keep. The quality of the locking mechanism means that the security on the doors is top notch.
These casement doors can be manufactured in any design, style or colour (as shown before on colour chart) and then are fitted with Toughened Double Glazed Safety unit or can also be fitted with PVC Panel. The Panels that are fitted are MDF Reinforced Panel, and we can offer a fantastic range of choices to fit your home – from a modern look to a traditional, vintage style.  Take a look at our door panel brochure below :
Also the Doors can be furnished with extras such as Knockers / Spy Holes / Numbers / Letter Boxes. And these are available in a number of colours such as : Chrome, Black, White and Brass.
Rock Door is the leading Manufacturer of high quality, high security PVC Composite Doors. Composite doors bridge the gap between the standard casement doors and the traditional timber doors.
Rock Door is an engineered door system which offers security and style as a standard. It combines both the realistic appearance of a traditional timber door with all the benefits of a PVC Door.
The Doors are tailor made from scratch for the ultimate in strength with each door being manufactured to your individual requirements. The Vast designs of rock Doors are to complement the different property styles.
Napier Windows LTD are a recognised installer of Rock Doors, so if that is what you are after, we can more than help!
The Best Door on The Market !!!
Advantages of the Rock Door :
Secure
Strong
Thermally Efficient
Durable
Style
Low maintenance
Our French Doors will add a touch of elegance to any of your openings, the traditional look will create a sense of spaciousness and bring lots of light into your room. The key benefit of the French doors are the fact there is no central mullion which means the doors open into a wide, unobstructed space, filling the room with air and light and offering an uninterrupted view.
Although people think the French doors may be a more vulnerable point in the house, our French Doors are as strong and stable as our other door types, offering complete security without compromising on elegance and style.
As with all of our products there are plenty of options available when choosing your French Doors. Whether that be if they open in wards or outwards, full glass panels or half glass and half PVC panels, Finishings, Colour. So you can have the final say on what you want.
Our exceptionally devised bi fold doors allow you to create a wall of light that can be fully opened in a moment to allow the outside to come in. An attractive and flexible way to access the great outdoors. The doors flood light into your home, enhancing its sense of space.
The concertina style doors have several opening configurations available :- You can have between 2 and 7 panels, the bi folding doors can open inwards or outwards and you can also have them folding to the right or the left. Whatever suits your available space and individual requirements?
We also incorporate our high quality multi point locking system into the bi folding doors, meaning security wise they are extremely safe.
As like the other doors and windows the bi folds are available in a wide range of colours and finishes and each unit is also made to measure, so you can be sure to find a size, style and combination to suit your home perfectly.
Our Sliding Patio Doors are both stylish and space saving. Simply slide them fully or partially open to let the fresh air and sunshine flood in, or on cooler days keep them shut and enjoy the extra light and undisturbed views of your garden.
Our low maintenance double glazed patios can be made exactly to your specification so they are then perfect for your openings.
The functional and easy use doors are also available in the wide range of colours and can be finished to your liking.